Minnum City Pushchair + iMatrix Travel System
Minnum City Pushchair + iMatrix Travel System
sale
+ Description
MINNUM Pushchair + iMatrix iSize
Designed for the city
Minnum from Jané is like an extra fashion accessory that provides the perfect companion on your strolls around the city so you can be as stylish as ever. The city won't fit in with you, so you'll have to fit in with it. Minnum from Jané has been designed right down to the last detail to give excellent manoeuvrability, which means you'll be able to cope easily with whatever the city throws at you. Ultra light aluminium chassis, with dual action brakes, front and rear suspension and Pro-Fix system to attach the seat in the forward or rearward facing position and with the possibility of attaching all the Jané accessories. A new concept of pushchair for super-safe and easy handling in the city.
Simple and compact folding system, height adjustable handlebar, ergonomic grip and just 6.5 kg in weight. You'll have not only one of the most versatile pushchairs on the market, but you'll be able to walk just as quickly when pushing it, and all with maximum comfort and safety for your baby.
Converts into a Travel System
Complete with the new iMATRIX from Jané, the new i-Size (R129) version of the popular Matrix. It is designed to protect your baby in the car and is suitable for use by children with a height of between 40 and 83 cm which is from birth to 15 months approx.
It is now even lighter than previous Matrix versions, reducing its previous weight of 6 kg down to just 4.6 kg, that's more than 20% lighter!
iMATRIX has been designed to be installed in the car together with the iPLATFORM from Jané. Always in the rear facing position, this base uses ultra-quick connectors with Pro-fix locking. Anchored to the car with Isofix and a front anti-rotation leg for complete safety and reliability. This is the safest installation system, as it prevents any installation errors that could affect safety.
MINNUM NOW IN YOUR CITY.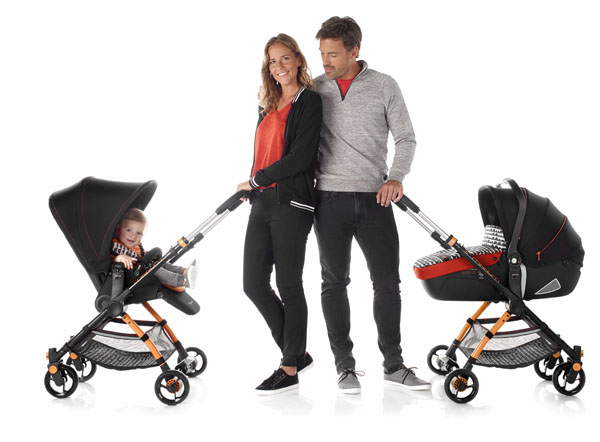 + Features & Benefits
Minnum is easy to manoeuvre thanks to the short distance between axles, ideal for the city and helps you take urban life in your stride.
PU tyres for greater comfort on bumpy ground and are also 10 times harder wearing than normal tyres.
Independent front and rear suspension provides a stable and comfortable ride.
Seat is suitable from birth thanks to its full reclinable, roomy, removable and reversible seat unit with adjustable footrest.
New larger and extendable hood for protection against the sun, wind and rain.
Full height adjustable handle with an ergonomic handle grip (85-100 cm).
Simple folding chassis is compact, light to carry and fits almost anywhere, even with the seat unit still attached.
Ultra lightweight aluminium chassis at only 6.5 kg.
Complete with iMatrix (iSize) which can transform into a car seat or Carrycot. Safe, healthier and for a better sleep in the early months for baby.
The Lie-flat iMatrix seat position supports natural, stress-free sleep.
Complete with the iPlatform, the iSize base that promotes Isofix, which has less chance of being incorrectly used than belted car seats and to ensure it is extra stable and safely fitted.
+ What's Included
Minnum pushchair
Pushchair raincover.
Coordinating Pram Bag with changing mattress.
Removable Protective bumper bar.
Large shopping basket.
iMatrix - the worlds first iSize convertible carrycot & car seat.
iPlatform iSize Isofix base for iMatrix in the car.
+ Why Buy?

+ Technical Characteristics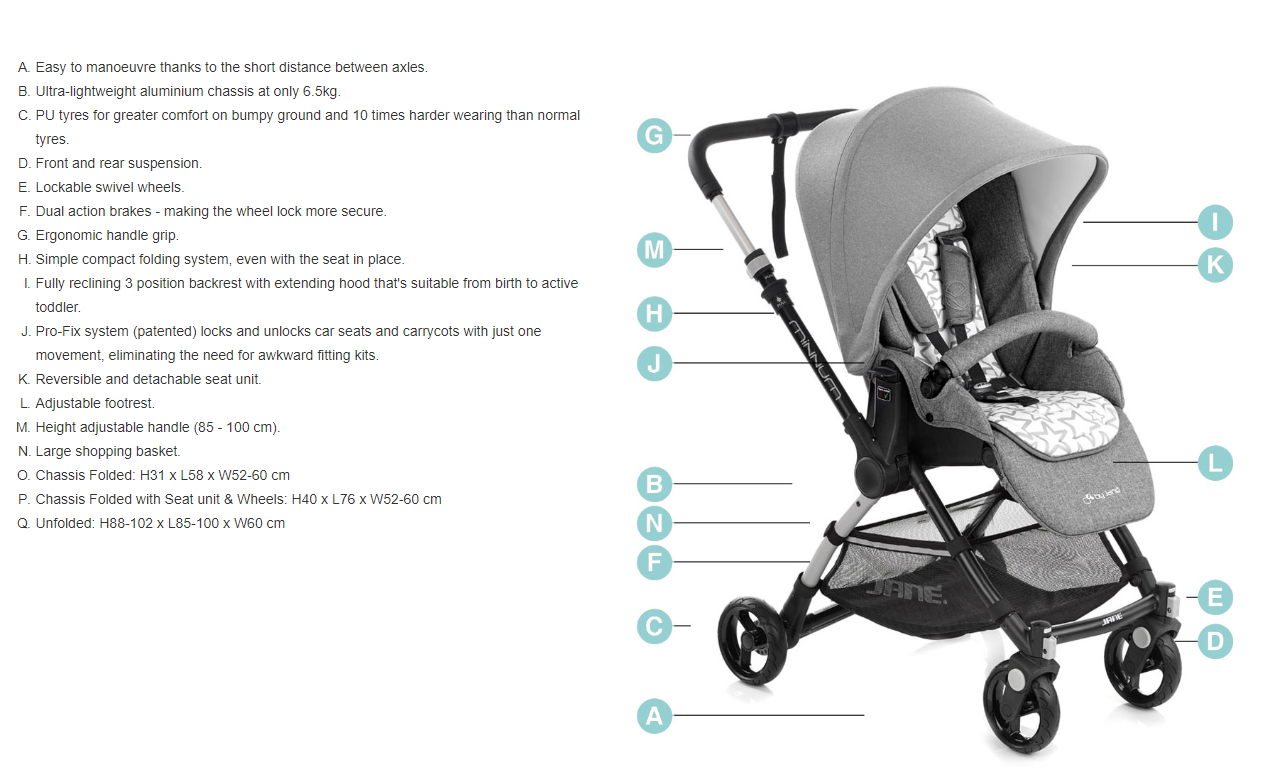 THE INFANT CAR SEAT THAT TURNS INTO A CARRYCOT
The iMatrix is fitted with the "Pro-Fix" system, which means that with just one movement, it can be fitted onto your Jané chassis to make a travel system. When used on the pram chassis or separately as a carrycot it can be fully reclined to be used in the healthier 180° Lie-Flat position which is recommended by health officials. It can also be used for overnight sleeping when used with a mattress. When in the car the Pro-fix locking allows for ultra-quick installation in the car in the sitting-up position.
HEALTH BENEFITS
Newborn babies should ideally lie completely flat, as recommended by health officials. This position unlike conventional infant car seats doesn't have any time restrictions a newborn can travel in it. It also facilitates newborn respiration, nurtures the abdomen and aids optimal spinal development. The Jané iMatrix iSize innovative design recognises these important requirements and allows baby to travel in the lie-flat position on the pram chassis or as a carrycot. In the car, the iMATRIX has been designed to be installed together with the Isofix iPLATFORM base and always in the rear facing, sitting-up position,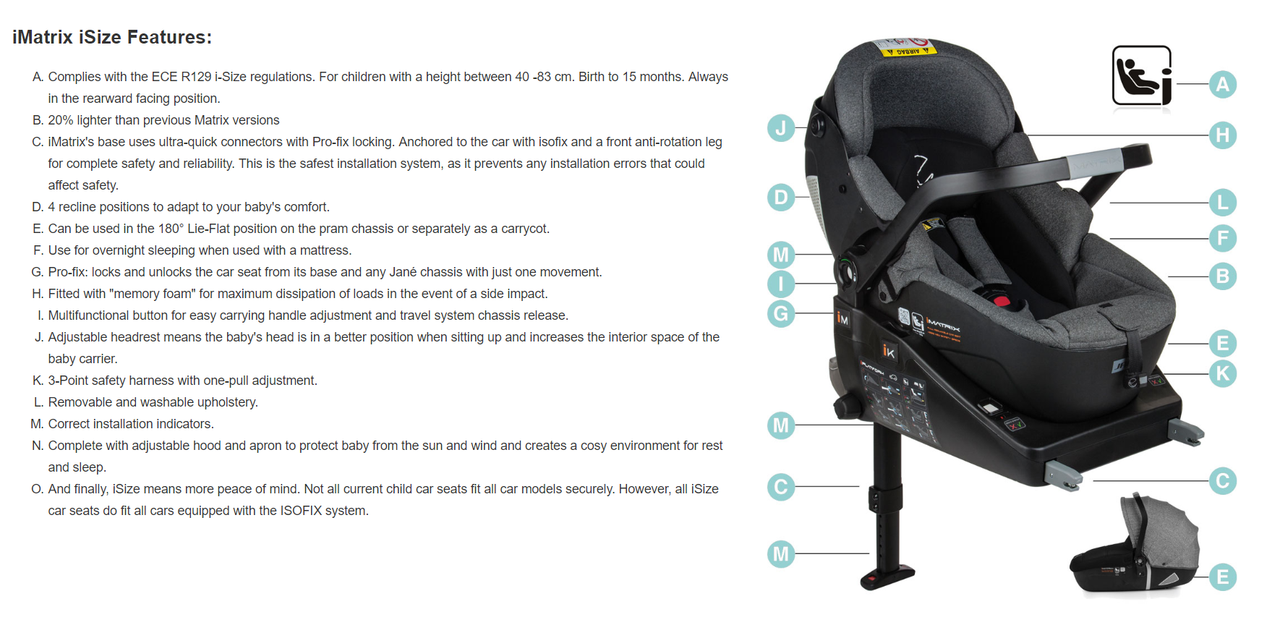 NOTE: iMatrix i-Size / Matrix Light 2 main differences.
As the iMatrix is an i-Size car seat it means, like all i-size car seats, that it uses the ISOFIX system and not seat belts to install into your car. Also the lie-flat functionality is limited to the pram and carrycot modes, and not available in the car. If you wish to have the option of seat belt installation and the lie-flat position when in the car, then you would need to look at the MATRIX LIGHT 2 version travel systems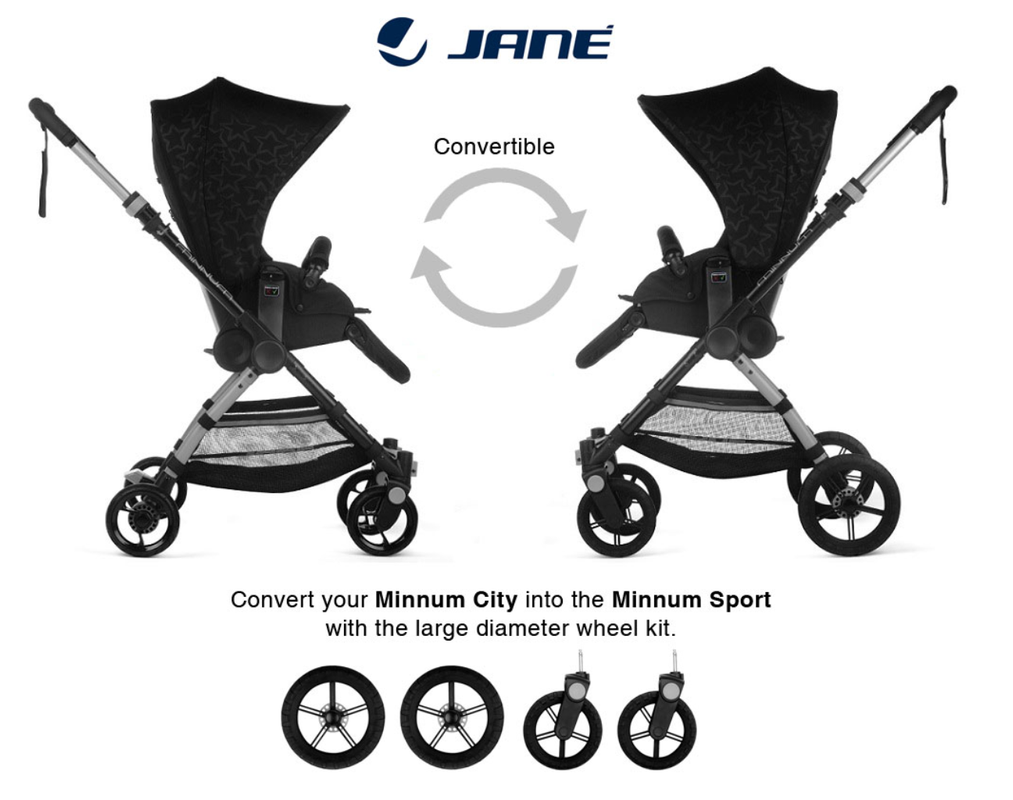 + Video