Jane Ikonic Car Seat - Tech Mouse
Jane Ikonic Car Seat - Tech Mouse
+ Description
IKONIC
360° Rotating, i-Size car seat, with extended rear facing and two positions with only one installation.
I-Size car seat (R129).
Rearward facing from 40 to 105 cm (Birth to 4 years)
Forward facing from 15 months up to 105 cm ( 15 months to 4 years)
Installation: Isofix with anti rotation leg
360° Rotating Seat Feature - Makes entering and switching ride positions incredibly easy
Rearward Facing. From 40 to 105cm -** (Approx. Birth to 4 years)
Forward Facing from 15 months to 105cm - (Approx 4 years)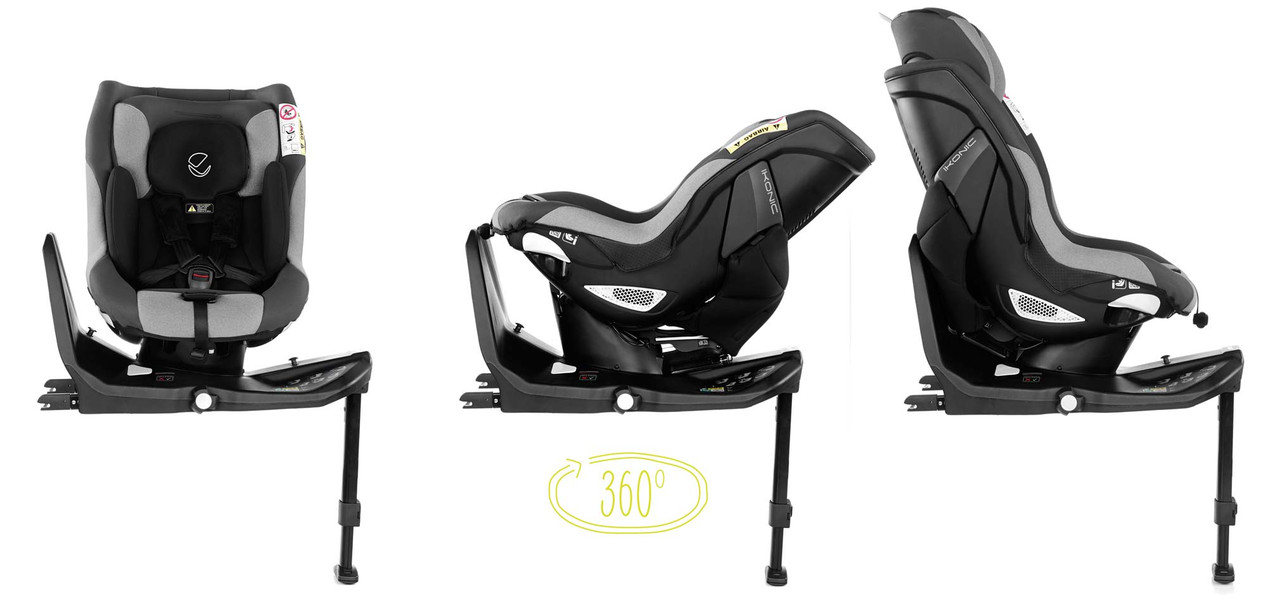 The new IKONIC car seat meets and exceeds the higher crash testing requirements of the i-Size legislation (ECE R129)
It has an adjustable headrest with 5 positions that can be easily adjusted to suit the baby's height. The height adjustment mechanism can also be used while the baby is in the seat, allowing you to adjust it to your baby for the perfect fit.
The Ikonic's fitted harness and headrest provide synchronised adjustment, and its 5-point harness spreads the load across the body better in the event of an accident.
Ikonic includes a new 40-60 cm cushion insert, for newborns, which improves the resting angle and increases safety in the event of side impact.
The reclining function operates with just one hand. 4 positions in both the rearward and forward facing position. With the reclining adjustment you can choose the most comfortable position for your baby. All of them are equally safe.
Isofix + anti-rotation leg. This is the safest installation position, as it prevents any installation errors that could affect safety. Fewer installation risks compared to seats installed with the vehicle seat belt.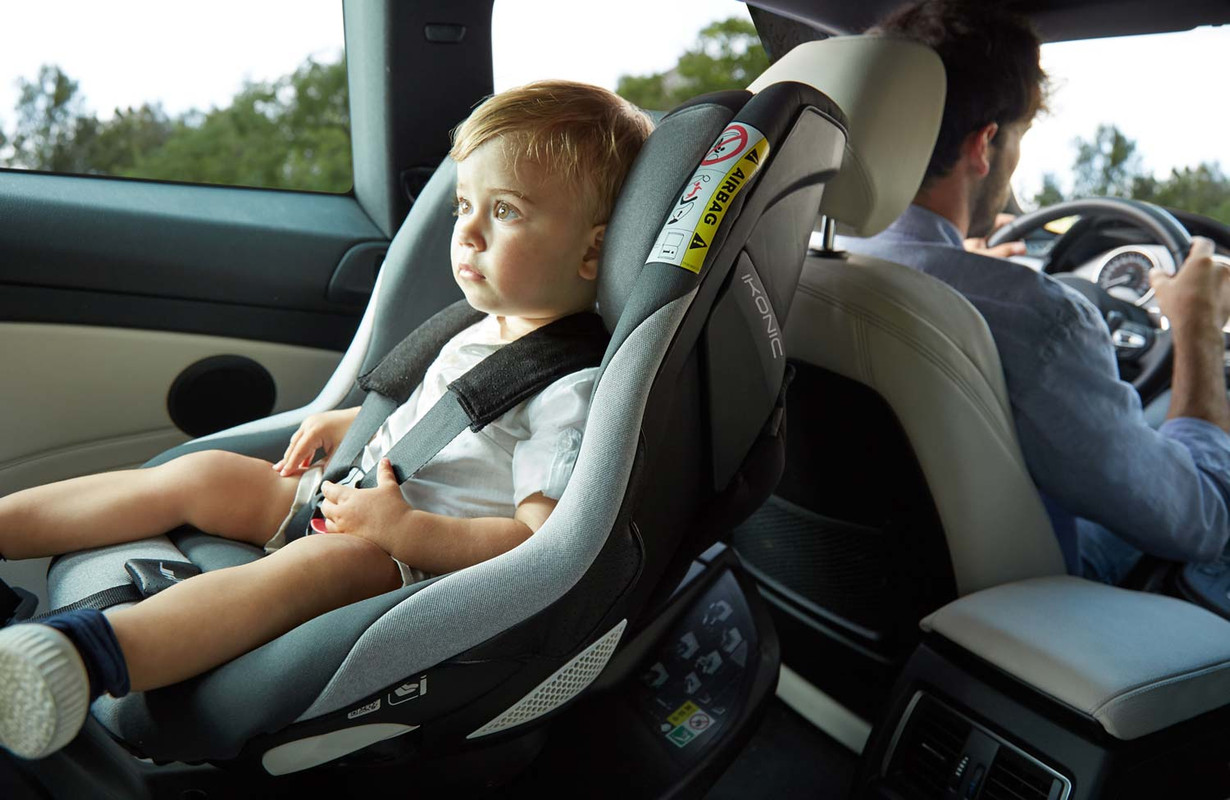 + Technical Characteristics
360° Rotating Seat Feature
Two Positions with Only One Installation
Forward or Rear Facing Position
Extended Rear Facing option for up to 4 years
Simple and secure to fit using a car's ISOFIX anchor points.
More Safety
I-Size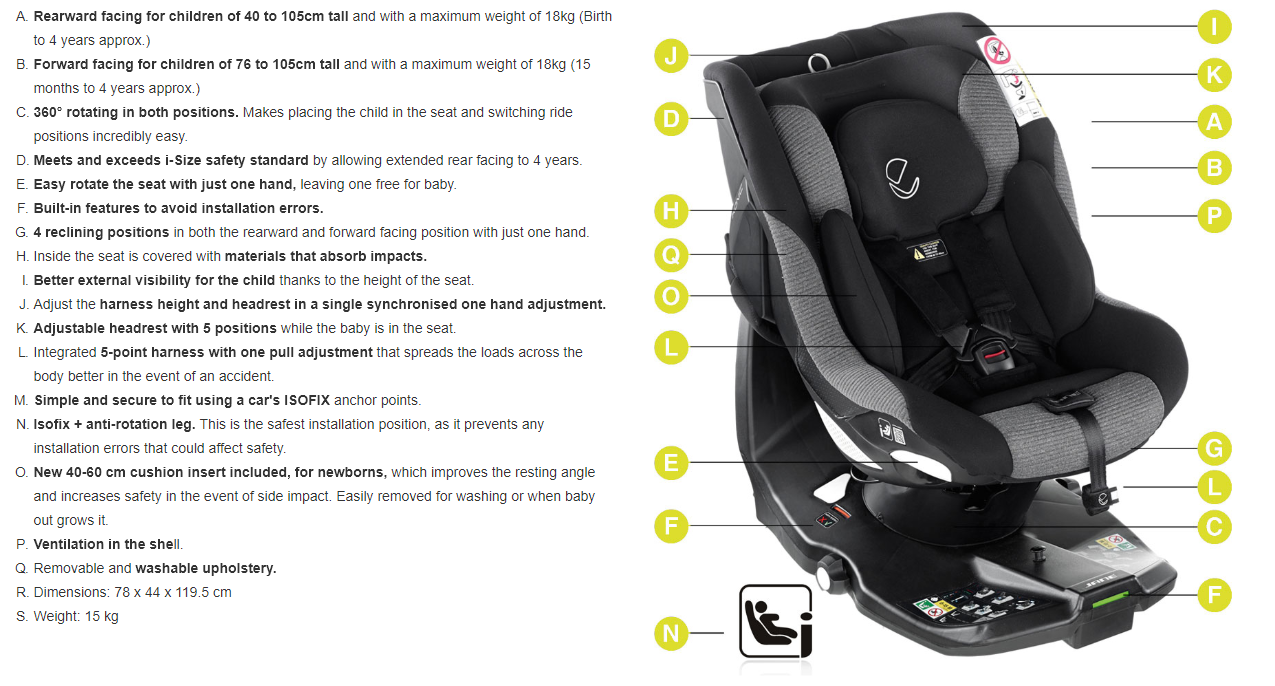 + Whats Included?
Ikonic i-Size Car Seat
New-born cushion insert
+ Video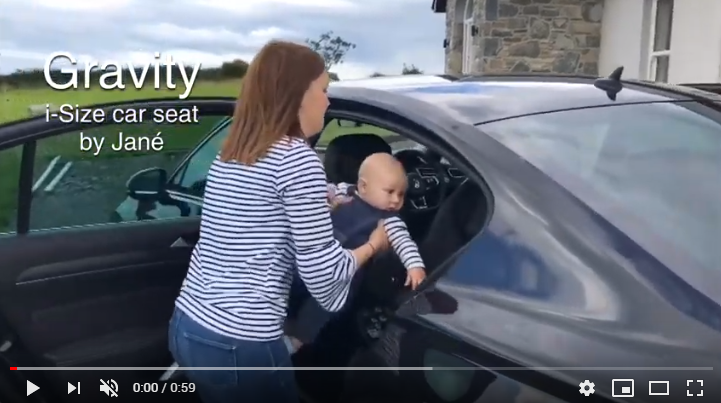 + Awards


+ Installation Video
+ Approved Cars
I-Size car seats will fit all i-Size certified cars and almost all cars with Isofix anchors.
This is an "i-Size" child restraint system. It has been approved under Regulation 129/00, for general use in vehicles fitted with the "i-Size" system. It can be used in vehicles with "i-Size" authorised seats (check the details in your vehicles instruction manual) and vehicles compatible with the class B1 or D ISOfix category.PDF Jane Gravity & iKONIC Car Seat Fitting List
We have so far fitted and comfirmed compatibility on the seats of the following vehicles (click on the PDF download) >>
Some seats in other vehicles may also be suitable for fitting this child seat. If your make or model of car is not on the current approved list, then it is likely we haven't got round to checking that combination yet.
It is also worth noting that I-Size car seats will fit all i-Size certified cars and almost all cars with Isofix anchors.
For any further query, ask the shop assistant when you buy it, or ask JANÉ directly.