+ Description
Noordi SOLE 2in1
Includes Co-ordinating Accessories
Happy For This Moment.
Noordi Sole has taken its inspiration from the culture and lifestyle of Norway. Inspired by the Northern lifestyle, the new Noordi Sole stroller focuses on comfort and well-being of children even under the most extreme of weather conditions.
Meet a unique and colourful collection that will make you stand out from the crowd. The new SOLE stroller has been created to allow your child to dream freely, attract attention, and become an important part of your family's style. With a light, compact folding frame, modern shock-absorbing system and reliable amortization system, this stroller is a useful companion for urban families on the move.
The new SOLE stroller is the perfect combination of style and comfort — something modern parents can really relate to.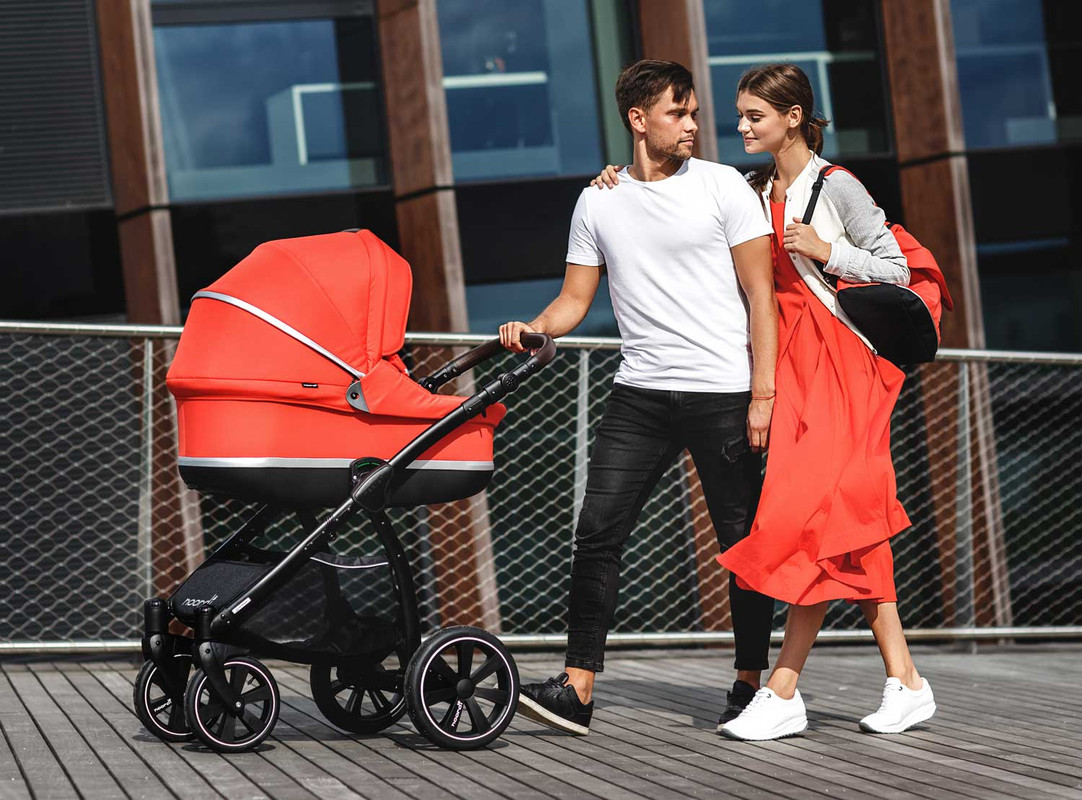 'Noordi's Scandinavian simplistic design and quality have been an inspiration all around the world'
+ Features & Benefits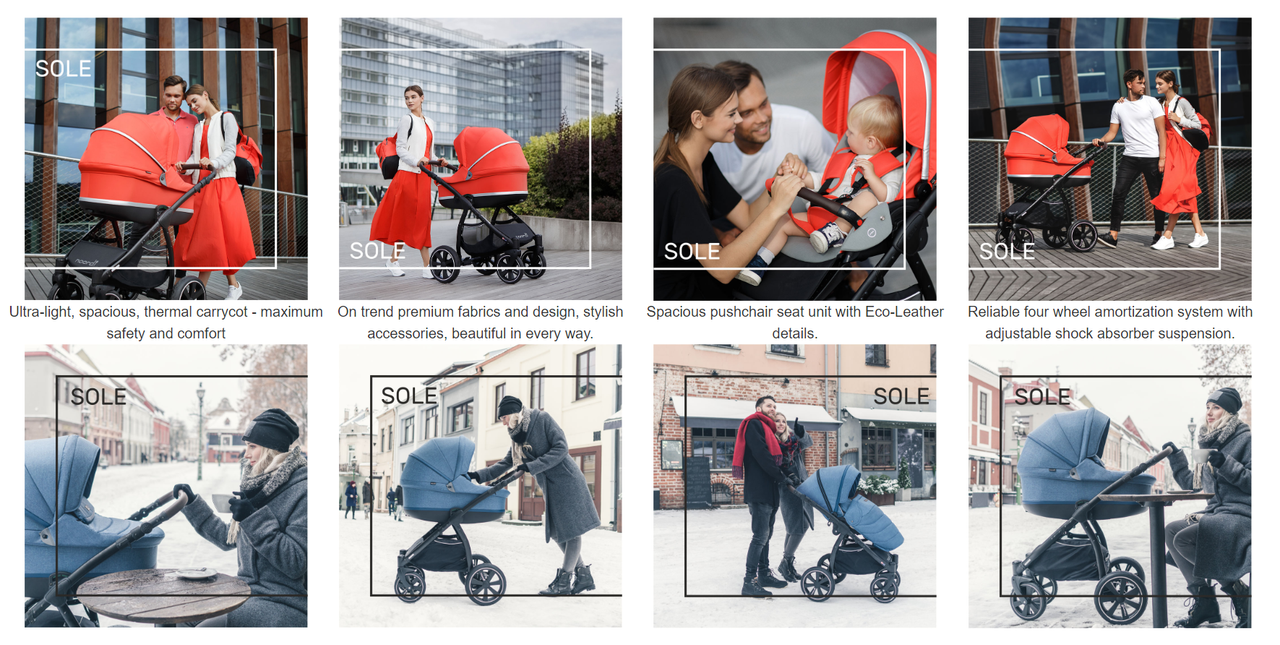 Ultra-light Thermal Carrycot:
The especially light thermal carrycot, weather-resistant fabrics, spacious interior, and modern exterior have been created to ensure the very best in comfort for your child. While the cotton fabrics, coconut safety mattress and the Antibacterial Silver Technology ensures protection for baby from germs as it makes surfaces and materials inhospitable to microbes such as bacteria and mould.
This unique carrycot has also a ventilated bottom, an extendable and ventilated hood with visors, a tailored apron, adjustable backrest, carrycot rocking function and washable removable fabrics.
Pushchair Seat Unit:
The seats hood pulls down fully to create a sanctuary for extremely comfortable travel. The space in the seat unit is plentiful and has a bumper bar and 5-point safety harness for baby's safety.
Its fully adjustable back rest can recline fully flat for new-born. Comes complete with adjustable footrest, footmuff-apron, extendable tailored pushchair hood with visor, fashionable pram changing bag-backpack, cup holder, mosquito net and raincover to create the perfect fully appointed stroller.
Chassis:
Equipped with adjustable shock absorbers, reliable four-wheel amortization system, One-Click™ brake system and the highly manoeuvrable frame makes it the perfect choice for active families who love to stay outdoors and enjoy life to the full.
Your walks will be pleasant and carefree, and this stylish pram will take care of creating comfort and care for your baby.
Features:
Thermo regulates microclimate – The thermal carrycot also includes a built-in ventilation system and reclining back rest.
Using technologically advanced lightweight materials the carrycot is ultra-light at only 4.3 kg.
This spacious carrycot has safe high and firm walls for maximum protection.
Cotton fabrics and coconut mattress inside the carrycot.
Antibacterial Silver Technology ensures protection for baby from germs as it makes surfaces and materials inhospitable to microbes such as bacteria and mould.
UV 50+ Sun Protection.
Waterproof fabrics
Adjustable and extendable hoods with visors for both pushchair and carrycot.
Aluminium compact folding frame.
ONE-CLICK ™ brake system.
Reliable four-wheel amortization system with adjustable shock absorber suspension.
Height-adjustable handlebar made of eco-leather.
Large capacity shopping basket.
Puncture proof tyres.
5-point safety harness
Spacious pushchair seat unit with removable ECO Leather bumper bar.
Night Reflectors.
Weights & Dimensions:
Height adjustable handle: 75-109cm
Sole Pram Unfolded dimensions: 99 x 119-130 x 62 cm (LxHxW)
Sole Chassis unfolded dimensions: 99 x 104 x 62 cm
Chassis folded dimensions: 86 x 36 x 62 cm
Weights: Chassis 9.5 kg, Seat unit:4.3 kg, Carrycot 4.3 kg
+ Package Contents
Sole Chassis
Spacious Thermo carrycot with hood & apron.
Pushchair seat unit with hood & footmuff-apron.
Antibacterial safety mattress with removable washable cover.
Fashionable Changing Pram Bag-backpack.
Insect net.
Raincover.
Cup holder.
+ Video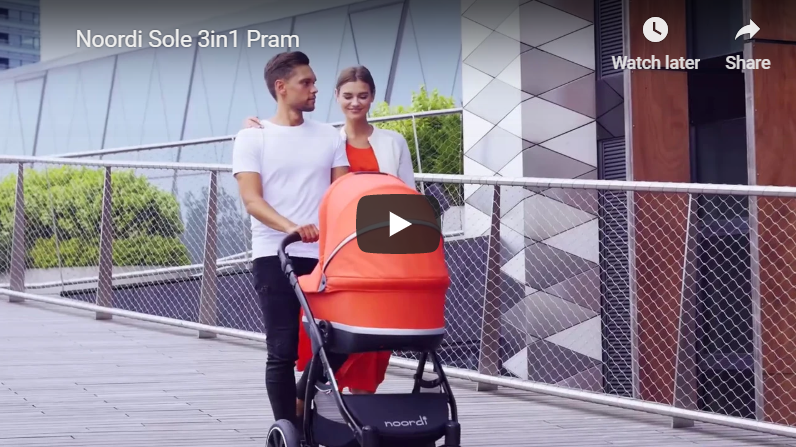 + Demonstration Video