Ultimate Maternity Fitness Capri Leggings
Ultimate Maternity Fitness Capri Leggings
+ Description
Supportive three-quarter length maternity fitness Capris, fully tested for maximum support. Combine performance and style for running and high-impact pregnancy workouts with flex and stretch for pregnancy yoga and Pilates
Ultimate maternity fitnesswear has been independently tested and proven to support your baby bump
Sleek flattering design combines function with sculptural style
Deep roll up/roll under waist panel designed to support bump and lower back
Supportive under-bump band for hold and comfort during high impact pregnancy exercise
Fully opaque, luxe, performance sports fabric for easy care and shape retention
Mesh panels behind the knees offer flexible movement and sweat wicking
Ergonomic flat lock seams ensure full freedom of movement without chafing
Inner pocket for keys and cards
Technical design to fit throughout your pregnancy and provide postnatal support.
High performance maternity sportswear, the Ultimate range has been independently tested and proven to reduce bump bounce by 48%. Designed to support, lift and hold so you can continue your fitness lifestyle right throughout your pregnancy and after your baby is born.
Providing maximum support for your bump and lower back these Capris are ideal for any high or low impact exercise. Combine style with performance, the supportive waist panel can be worn over the bump or rolled underneath, depending on your workout, trimester and individual choice.
Maternity activewear designed for your active lifestyle.
+ Size Guide
Our maternity fitnesswear has been created from fabric that will stretch and grow as your pregnancy progresses. It doesn't have fiddly buttons or drawstrings …it simply stretches. Buy your usual size as soon as your standard gymwear starts to feel uncomfortable – there are no gold stars for putting up with leggings that cut into your baby bump or fall down when you bend down. As a general rule we recommend buying your pre-pregnancy size but many women put on unexpected extra pounds early in their pregnancy. If you know your bum's more peachy and your boobs have burgeoned, just embrace your pregnancy curves and buy the next size up.Our clothes are designed to be snug …but not tight. It's more important that you're comfortable. The stretchy nature of our garments does allow for some flexibility in sizes, the XL for example will fit beyond a size 18. All our tops are a longer than average length to fit over your baby bump and stay in place during any activity. FittaMamma maternity leggings are a generous length to allow for sideways stretch – for most women they are long enough not to leave a gap around your ankles! The roll-up/roll under waist band can be worn full height, or folded under your bump, wherever or however you prefer the support. Folded over works well after you've had your baby, smoothing and supporting your mummy tummy and encouraging your muscles back together. The stretchy support band around the bottom of many of our tops fits around your hips and pelvis, supporting your bump and hugging your hips and pelvis for added support as your joints loosen.
We would recommend the following (UK Sizes):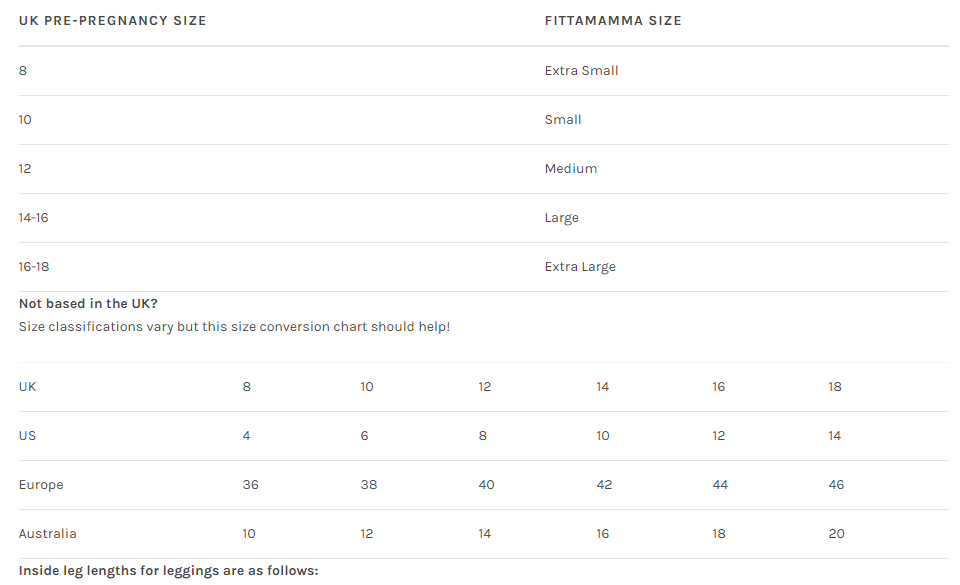 Extra Small: standard length inside leg measurement is 81cms / long leg is 85cms
Small: standard length inside leg measurement is 84cms / long leg is 88cms
Medium: standard length inside leg measurement is 86 cms
Large: standard length inside leg measurement is 88cms
Extra Large: standard length inside leg measurement is 88cms
Inside leg lengths for Capris are as follows:
Extra Small: standard inside leg measurement is 42cms
Small: standard inside leg measurement is 44 cms
Medium: standard length inside leg measurement is 47cms
Large: standard length inside leg measurement is 49cms
Extra Large: standard length inside leg measurement is 51cms
+ FAQ's
Need more info about our range and how it will help support your active pregnancy?
We share our most frequently asked questions about our Ultimate Range of maternity sportswear
Couldn't I just buy a bigger size of my 'normal' sportswear?
You could of course! But you'd be sacrificing the benefit of the support that will keep you exercising throughout your pregnancy. Think sports bra for your bump – our maternity fitnesswear will lift and hold throughout your pregnancy so you can exercise with style and comfort, your baby bump, back and boobs held securely. If you're serious about fitness you'll know the difference your sports bra makes – transfer that level of support and comfort to your baby bump and you'll understand immediately why you need supportive fitnesswear during pregnancy.
And, whilst your body is going through so many changes it's good to feel positive about the way you look too! Going up a size is not the most flattering option.
Do I need to wear a sports bra under your Ultimate tops?
We've included an inner bra on the Ultimate top – it's designed to supplement your favourite sports bra rather than replace it, especially for high impact activities such as running. Your breasts will inevitably increase in size as your pregnancy progresses and get even bigger after your baby is born – it's well worth giving them all the support they deserve.
Did you know? Your Cooper's Ligaments support your breasts but over time they can stretch, causing your breasts to droop and lose their shape. The size and weight of your breasts can strain the ligaments and unfortunately it's a one-way stretch, they won't regain their structural integrity. The more support you can give your breasts, the better – supplementing your sports bra with the additional support our tops offer will help keep them secure.
What makes your leggings different to 'ordinary' maternity leggings?
Active pregnant women are at the heart and soul of the FittaMamma ethos – our leggings offer the ultimate in comfort and support. The waist panel is not only super-stretchy with a high elastane content to fit throughout your pregnancy it's also double thickness so it holds your baby bump firmly when you exercise. It's high enough to pull up over your bump, but can be rolled down to sit underneath, depending on which trimester or postnatal stage you're at, what exercise you're doing and where it feels most comfortable and supportive. The waist panel is just as high at the back too, holding your lower back and supporting where you need it.
We've included a discreet additional band just under your bump too, which provides even more support throughout pregnancy.
At what stage of pregnancy would you advise switching to FittaMamma maternity gymwear?
You'll notice the changes in your body quite early in your pregnancy. Many of our customers tell us they wish they'd switched earlier, no-one has ever said 'I wish I'd waited longer before buying your clothes'! Why endure the discomfort of leggings that are tight round your belly and fall down when you bend down or tops that ride up over our bump and don't offer any support? We would suggest you wear our tops from around 10 weeks onwards – they're designed to stretch and support throughout your pregnancy.
What about after my baby is born? Can I wear FittaMamma gear for postnatal exercise?
For most women it takes a while to get your pre-baby bod back – those 9 months of change can take up to 9 months to reverse. The FittaMamma range is designed to wear for postnatal exercise too. The firm waist panel on FittaMamma capris and leggings will help hold your 'mummy tummy' together, encouraging your abdominal muscles to knit back together if you're suffering from diastasis recti. Our range is also very flattering, smoothing your curves so you feel good about the way you look.
Couldn't I just wear a belly band?
Our clothes incorporate all the support and comfort of a belly band – whilst being designed specifically for women who choose to stay active during pregnancy. They won't ride up, roll down, bunch up or rub. And if (when!) you find you're enjoying the support and comfort there's nothing to stop you living in your maternity activewear!
Where should the waistband on the tops sit? I don't have a waist anymore!
The waistband is actually designed to sit around your hips, underneath your baby bump. You'll really see the benefit of the band as your pregnancy progresses and the hormone relaxin starts to loosen your joints in preparation for birth. The firm elastic is designed to hug your hips, holding them more firmly to help if you're suffering from pelvic girdle pain. At the same time the band sits under your baby so it lifts and holds the weight, easing the pressure on your pelvis.
What are the clothes made from?
We've chosen a high-performance sports fabric that will easily wick moisture away from your body, combined with mesh panels for enhanced sweat wicking where it's most important. The mesh is behind your knees in the leggings and under your breasts on the top, combined with a mesh back to keep you cool during exercise. The actual fabric is a man-made fibre (polyester) with a high elastane content for maximum stretch. The inner bra is made from a soft polyamide which feels good against your skin. It's easy to wash at a low temperature and doesn't need ironing.
So what does 'cross-back technology' mean?
It's a unique design feature that helps to make our maternity sportwear even more supportive. The hidden cross is designed to support your back, helping to lift the weight of your bump onto your back and shoulders where you are naturally stronger. Improving your posture and encouraging you to stand tall avoids the 'D' bend in your lumbar region – helping to avoid backache as your bump gets bigger.
I HATE itchy seams, my skin is very sensitive
The Ultimate range has lovely flat seams with nothing to chafe or irritate. The no-chafe finish feels good against your sensitive pregnant skin. We've even avoided itchy stitched-in labels, it's a small detail but one that we think you'll appreciate.
What's the point of the silicone strip on the inner waistband of your tops?
When you bend and stretch that silicon strip is an added precaution to make sure the fabric of the tops doesn't slip and slide against the fabric of the leggings. We want to make absolutely sure the top doesn't ride up when you reach up – it's another little detail designed to make our maternity sportswear the best option for your pregnancy workout!
+ Care Guide
FittaMamma Maternity Activewear is made from a stretchy cotton/elastane mix combined with 'CoolDry' to wick moisture away from your body for comfort. Our clothes are easy to care for: simply wash at 30 °C and cool iron if required. Do not dry clean, do not bleach and whilst tumble drying on low temperature shouldn't damage the clothes it is not recommended.