Stainless Steel Baby Thermal Food Flask 550cc
Stainless Steel Baby Thermal Food Flask 550cc
+ Description/Features
Stainless Steel Baby Thermal Flask for liquids - 500cc
The Jane Stainless Steel Thermal Food Flask can keep food hot or cold for up to 10 hours due to the insulation of the airtight seal of its double vacuum wall. Light, practical and safe, ideal for using at home and when you're out and about.
It has a double closing system. The first smaller lid is sealed with silicone to prevent liquid from leaking out. The outer lid is bigger and can be used as a bowl making it easier to feed the child and leaving the rest of the food inside the flask so it stays hot. It has a nylon carrying bag making it very convenient on journeys.
Holds 500cc - 16 ounces
0m Stainless steel thermos flask with great insulation thanks to the stainless steel double wall.
It also has a liquid valve that locks when tipped. Ideal for journeys.
Helps you prepare the babys bottle more quickly. Just leave the boiling water in the flask at night, then when the baby wakes up you can get his bottle ready more quickly.
The lid can be used as a cup.
Colours / designs may vary to that illustrated from time to time.
Bottle height: 24cm
100% free from BPA,PVC, LEAD, PHTHALATES, BISPHENOL-A
Decorated with non-toxic paints
Please Note
We recommend you fill the flask with boiling water for 5 minutes to heat the flask walls up first. This will ensure the food stays hot for longer. The following chart is an indication of the temperature of the flasks contents over a typical 8 hour period and should only be used as a guideline. The temperature is dependent on the contents of the flask.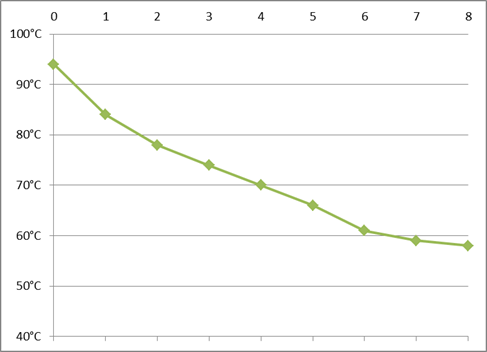 + Video